SOUS LE CIEL D'HAITI
I'am a cancer survivor
God saves my life
for a reason, I might not
know why
, but I know he still
want me alive
And that's my reason
to glorify his name
and thank Him
for the rest of my life
Dessalines Joachim
MATTHEW :7v2
If your eye is pure
,there will be sunshine
in your soul. But if your eye is clouded
with evils thoughts and desires,
you are in deep spiritual darkness
3-Nous
4-AYITI
5-Decision
6-Accident
7-2004
8-SI
10-Patricia
11- Apran reve
12-IDANTITE
14-Tren-an
write by:Edith J.B.Moise
J.B.P
PRODUCTION
240-381-5453
Un poême du Rev Pasteur
Amos Pierre Louis
Texte de
Jules Harold Longchamp
Receuil de Dessalines Joachim ,dédié à toute ma famille et à tous mes amis .
C'est tout une variété d'experiences positives et négatives auxquelles nous
parviennent la moralité et l'immoralité, la justice et l'injustice la tolerance et
l'intolérance. C'est aussi l'expression de mes sentiments d'amour , de
sensibilité et comprehension de tous les jours, de toutes les heures
de ma vie sur cette terre.
Entrainneur Mompoint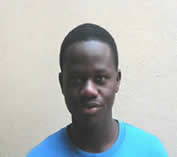 Peintre Gonaivien
Ex- defenseur de la ligue
Marc Antoine Moise
Doudou-Haut